Feature Track "Walk Me To The Door" The Luv'd Ones (Truth Gotta Stand, 1998)

Guys – I found your new rock crush. Her name is Char Vinnedge and her band was The Luv'd Ones.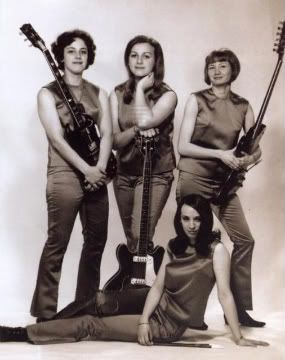 The Michigan native formed The Luv'd Ones in 1965, along with her sister, Chris, and two others, Mary Gallagher and Faith Orem. They were quickly signed to Dunwich Records and put out a string of singles over the next three years.
From TGA: "Char was the undisputed leader of the gang; not only did she sing lead vocals, play lead guitar and write the original songs, but also took care of their equipment, bookings and artwork, and even drove the van when required. … Char had a habit of tuning her Gibson SG down a full step, which played a huge part in why the group's music has frequently been described as 'dark', 'gloomy' or even 'haunting'. In addition, Char's preference for minor keys, her lead vocals (she usually sings in her lower register and hardly ever uses any expressive singing techniques) and the accompanying harmonies contribute to the 'darkness' often heard in the music." (source)
Just listen to the track – this woman could shred. She idolized Hendrix and, after The Luv'd
Ones disbanded in 1969 having never 'made it,' Char was invited by his bass player, Billy Cox, to play on his album Nitro Function (which I'm sure we can all agree is a terrible title).
In 1997 Sundazed Records signed a five year agreement with the group to, at long last, release their assorted singles and demos as a full length album. Sadly Vinnedege died of a heart attack shortly after finalizing the deal, before Truth Gotta Stand got it's official release.